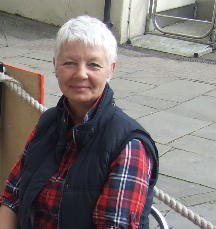 Katherine Verity-Scott DTC UKCP registered

Consulting Room:
Queens Road Health Centre,
85, Queens Road
Shotley Bridge

Consett,Co. Durham
Daytime and Evening appointments available
Phone:07789 556200
Email:verityscott1@gmail.com

Please feel free to telephone or email if you have any questions, or you require further information
www.counselling-directory.org.uk/counsellors/katherine-verity-scott
www.ukcp.org.uk

Katherine Verity-Scott DTC UKCP registered
Psychotherapeutic Counsellor
I am a fully qualified and experienced psychotherapist offering a fully confidential and supportive service.
I provide support when life feels overwhelming.
The setting is private and comfortable.
All our work together is fully contracted
to ensure that you feel safe.
Deciding that you might need some Counselling
is a daunting decision and it is normal to feel anxious

Talking to a trained professional can begin the process of untangling your thoughts and start the journey to regaining a more positive outlook .
Slowly but surely life will begin to look less bleak

I normally suggest that you book an initial appointment so that we have an opportunity to meet and you have a chance to say a little about your situation.
We can then look at your options and plan a way forward.
If you would like to make an initial appointment please contact either by phone or email
I offer Daytime and Evening appointments
Registered member of the UKCP governing body
Registered member of the Northern Guild of Psychotherapy